Programs
The Goldenrod Foundation organizes programs for the community on a seasonal basis to provide public access to the natural resources of Plymouth Beach. The Foundation develops programs with its partners to introduce visitors to the birds of Plymouth Beach, wetlands conservation and management practices, geology of barrier beaches, and the flora and fauna of coastal habitats.

2011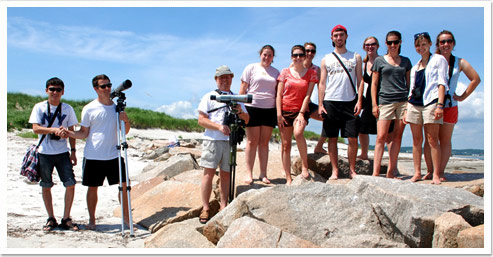 Summer interns from Plimoth Plantation arrived by boat at the Goldenrod field station to learn about the history, coastal ecology and wildlife of Plymouth Beach. The Internship Program provides an opportunity for young people to work alongside skilled artisans, scholars, and professional museum staff at 17th Century Plimoth Plantation and the Mayflower II. Interns on the field trip to Plymouth Beach will return to college at USC in Los Angeles, Catholic University in Washington DC, as well as other colleges across the United States. An intern from Tajikistan is a graduate school at the University of New Mexico in Las Cruces. The group walked to the tip of the barrier beach with Scott Hecker, Executive Director of Goldenrod Foundation, to observe migratory shorebirds and the Common Tern colony.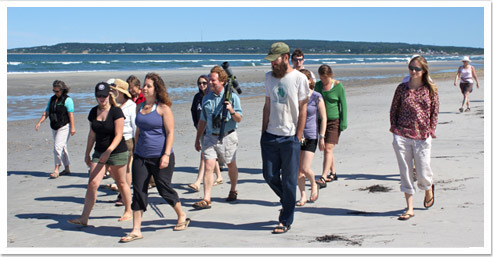 A group of 16 AmeriCorps members convened on Plymouth Beach as part of a field session on coastal conservation hosted by Wildlands Trust and the Goldenrod Foundation. Scott Hecker, Executive Director of the Goldenrod Foundation, led the group on a walk to the tip of the barrier beach, observing Piping Plover, Least Tern, Common Tern and Roseate Tern adults and chicks. The AmeriCorps members have been serving for a year at non-profit land trusts and regional conservation organizations across the state, associated with Mass LIFT (Massachusetts Land Initiative for Tomorrow). AmeriCorps service programs engage thousands of Americans in intensive service to meet critical community needs, including land protection and stewardship.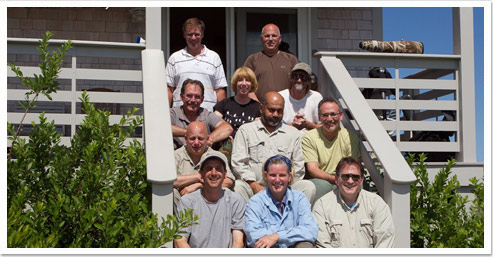 A group of photographers from Plymouth and Southeastern Massachusetts joined Shawn Carey, Migration Productions, for a sun up to sun down Photo Round-up on Plymouth Beach. This is the second year that Shawn has led the session from the Goldenrod field station. The photographers shot still images as well as video of Least Tern and Common Tern adults and chicks, including the hatching of a Least Tern nest of two eggs.

See images from the photo round up here

>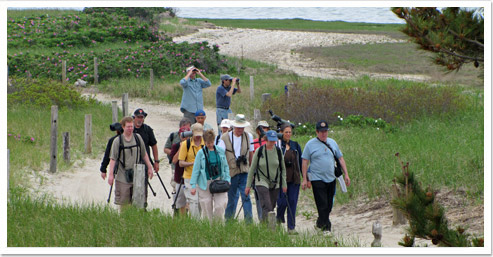 Members of the Brookline Bird Club, South Shore Bird Club, and Friends of Myles Standish State Forest visited the Goldenrod field station on their way to the tern colony at the tip of Plymouth Long Beach. Ranging in age from 8 to 80 years, the group walked six miles round trip to observe over a thousand Common Terns nesting at the point of the barrier beach. Members of the group were especially keen to observe breeding Roseate Terns, listed as an Endangered Species under the US and Massachusetts Endangered Species Acts, and Arctic Terns, also a listed species nesting at the southern most point of its breeding range on Plymouth Beach.

2010


Scott Hecker, Executive Director of the Goldenrod Foundation, led a field trip to Plymouth Beach in conjunction with The Power of Partnerships: Bird Conservation Conference in the Northeast. Over 100 conservation professionals from North America and the Caribbean attended the conference in Plymouth to develop solutions to bird conservation issues through research, monitoring, management and education. Scott presented "The Piping Plover as an Umbrella Species" as part of the conference program.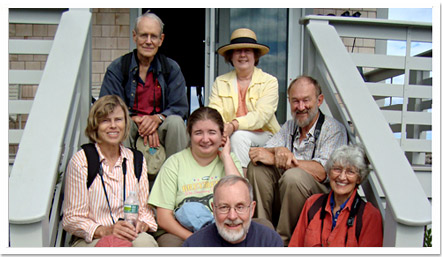 A group from Manomet Conservation Sciences visited Goldenrod and Plymouth Beach as part of Travels with Trevor. Trevor Lloyd Evans, PhD is the banding director at Manomet and leads numerous field education programs. The group walked to the tip of the beach, observed numerous migratory shorebirds including black-bellied plovers, and were treated to a whimbrel flying by the Goldenrod field office.




Sixteen members of Plymouth's local Pinehills Bird Club arrived by boat shuttle from across the harbor to join Scott Hecker for a bird walk on Plymouth Beach. The group observed post breeding terns as well as numerous species of migratory shorebirds that stop to eat and rest before migrating to the Gulf of Mexico, Caribbean, and South America.


Shawn Carey led a group of wildlife photographer colleagues for a full day on Plymouth Beach, arriving at the Goldenrod Cottage at 5:00 am and staying until 7:30 pm.

Shawn Carey will release Migration Productions' Shorebird video later this year. http://www.shawnpcarey.com/page17/page10/page10.html



Members and Staff of the Cleveland Museum of Natural History arranged a visit to Plymouth Beach and Goldenrod cottage in July as part of an annual museum science trip. Scott Hecker, Executive Director of Goldenrod Foundation, led a beach and bird walk. The group also visited Manomet Center for Conservation Sciences in Plymouth.

2008 - 2009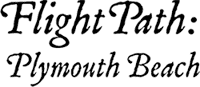 The Goldenrod Foundation collaborated with Plimoth Plantation to mount FlightPath, an exhibition of Jim Fenton's photographs of the Birds of Plymouth Beach. As a Goldenrod Artist in Residence, Jim captured thousands of images of breeding birds and other migratory shorebird species throughout seasonal changes on the beach. The FlightPath exhibit included eighty framed photographs, mounted panels and Goldenrod's animated map of shorebird migratory routes. Plimoth Plantation developed a full calendar of FlightPath programs in partnership with Mass Audubon, Manomet Center for Conservation Sciences, and Goldenrod Foundation. Public programs included bird walks on Plymouth Beach, speaker series featuring noted ornithologists and authors, and a film series at Plimoth Plantation. FlightPath: Birds of Plymouth Beach was extended through 2009.




In July 2008, Brian Harrington from Manomet Conservation Sciences led a bird walk on Plymouth Beach as part of the FlightPath Program. Crossing Plymouth Harbor in The Volunteer, Plimoth Plantation's harbor vessel, the group disembarked at the Goldenrod Cottage. Following lunch, participants observed a newly hatched brood of piping plover chicks, nesting least and common terns, and numerous other coastal shorebirds.


2007

Atlantic Center for the Environment
http://atlantic@qlf.org/index.html

In 2007, Goldenrod Foundation hosted a group of conservation professionals from Latin America and the Caribbean selected by the Atlantic Center for the Environment for a three-week fellowship program. The Fellowship focuses on coastal and marine stewardship, encouraging personal responsibility for natural resource management. The Land Stewardship Fellows included conservation professionals from Belize, Guatemala, Colombia, Ecuador, and Spain. Scott Hecker, Executive Director of the Goldenrod Foundation, led the field visit to Plymouth Beach. The program provided an opportunity for the Fellows to share ideas with their North American counterparts, acquire new information and develop practical skills.